Need to get rid of bed bugs? Phoenix Bed Bug Expert offers discreet and guaranteed bed bug extermination and treatment with up to a one year warranty.
We have been in the bed bug industry for over 6 years and have treated over 8,000 homes throughout the Valley, including many in Scottsdale and Paradise Valley.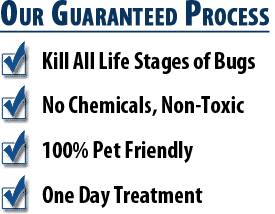 A serious bed bug infestation will usually make itself apparent through itchy lumps or more widespread rashes, similar in appearance to mosquito bites. As soon as you suspect that you might have bed bugs, give us a call.
We will schedule a day and time for an in-home bed bug inspection, where we will thoroughly inspect your residence for bed bugs.
If we do find bed bugs, we will give you a thorough report, detailing the scope of the problem including how bad the infestation is and which rooms are affected. From there, we can explain the different bed bug treatment options that we can offer and which are most appropriate for your specific bed bug infestation.
Bed Bug Treatment Options
There are two different ways to get rid of bed bugs. The first option is a bed bug heat treatment, which will provide immediate, same-day relief. The second option is with a pesticide/chemical spray which can take up to 30 days for complete eradication.
Below we have covered each bed bug treatment option with some additional information:
Bed Bug Heat Treatment
Most effective treatment, kills all bed bugs and eggs in 8 hours or less. You will not see another living bed bug or feel another bite after having a heat treatment
Entire structure and rooms are heated to 150 degrees. No bed bug or egg can withstand this heat and is instantly killed
Up to a 1 Year Warranty – we guarantee this treatment for up to a year. If you see any living bed bugs during your warranty period, we will retreat at no cost
Bed Bug Pesticide / Chemical Spray
Less expensive option, a licensed bed bug technician will thoroughly spray infested areas and bed bug hiding spots with our professional-grade pesticide
This treatment can take up to 30 days to fully eradicate a bed bug infestation. This is because every bed bug and egg must hatch and come in contact with our pesticide
Up to a 6 Month Warranty – this treatment is also guaranteed for up to six months. You can always give us a call to schedule service within your warranty
If you have any questions about our bed bug treatments or would like to get pricing/cost information, give us a call at 623-202-7924. We also offer free bed bug inspections to determine your level of infestation and recommend the best bed bug treatment for your specific situation.
Our Services Are
100% Guaranteed

with Up to a 1-Year Warranty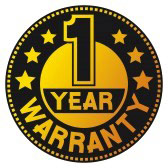 Unlike some of the competition, we guarantee our bed bug treatments for up to a full year. If you find ANY bed bugs after we've finished, we will return free of charge and re-treat all affected areas. 
To learn more about our bed bug warranties, click here.
We are known for our excellent customer service. We encourage potential customers to look up our company online and read reviews on sites like Google, Yelp, Facebook, etc.  You can find a collection of reviews on our Customer Testimonials page.
Phoenix Bed Bug Expert has a commitment to giving the best and most efficient bed bug extermination and treatment service throughout the entire Phoenix-metropolitan area. We have satisfied customers in Scottsdale, Phoenix, Tempe, Peoria, Chandler, Mesa, Glendale, and other surrounding areas.

Get Rid of Your Bed Bugs Once and For All – 100% Guaranteed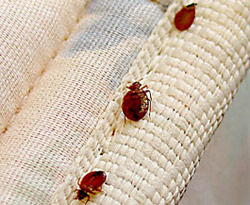 Bed bugs are one of the most difficult pests to get rid of. Bed bugs are very small (almost invisible to the naked eye) and have a very flat body, allowing them to hide in even the tiniest cracks and crevices.
When we carry out bed bug home inspections, we will work through an entire list of potential bed bug "lairs". All soft furnishings, including mattresses, couches, carpets, curtains and cushions as well as bed frames, nearby dressers and cabinets as well as fittings like electrical outlets and baseboards must be closely inspected.
But those are just the start, bed bugs can turn up in the most surprising of hiding places and it is essential that we are thorough in our checks.
If you suspect that you might have bed bugs in your home, the easiest way to check is to look carefully at mattress seams and any visible box springs. You are not only looking for the bugs themselves, but also any brown stains (their fecal matter).
Once you have confirmed that you have bed bugs (whether through visible evidence or a bed bug inspection), only a professional bed bug heat treatment or bed bug chemical/pesticide spray will ensure your bed bugs are fully eradicated.
Delaying on getting your bed bugs exterminated will only make the infestation worse (and often more costly). A normal, healthy female bed bug enjoying a diet of blood from you or your pets, can produce between 2 and 5 eggs every day and will be reproducing for approximately 100 days, meaning one female bed bug could lay up to 500 eggs.
Prevent Bed Bugs From Spreading Into Your Entire Home – Call 623-202-7924
If untreated, bed bugs will spread throughout your house, feeding on any warm-blooded inhabitant they can find. When you hire Phoenix Bed Bug Expert to treat your bed bugs, you can rest happy knowing that your infestation is gone and you are protected with our bed bug warranty.
Request a Free Estimate Online or Give Us a Call Now at 623-202-7924
Scottsdale Bed Bug Furniture Removal & Mattress Disposal
Did you know we can also dispose of furniture containing bed bug spotting/feces? We provide furniture removal and mattress disposal for all bed bug infested items. Learn more about our furniture removal and mattress disposal service…
"I tried DIY treatments but after waiting weeks for results, I decided to look for a pest control company. I found Phoenix Bed Bug Expert online and was impressed with all the reviews. I went with the heat treatment and after they were done, I haven't seen a bed bug since."
Rating:5 of 5
Sincerely, Mark B.