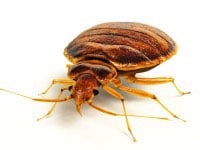 When it comes to bed bugs, you are hiring Scottsdale's best that are trained to detect and eliminate all bed bug infestations. We are not a general pest company – we only treat bed bugs.
With over 6 years of experience in the bed bug industry, we have provided over 8,000 treatments throughout Scottsdale and the Phoenix-metro area. We offer two types of bed bug treatments – a chemical/pesticide treatment or heat treatment
Bed Bug Treatment Options
Below we have covered each bed bug treatment option with additional information:
Bed Bug Heat Treatment
Most effective treatment, kills all bed bugs and eggs in 8 hours or less. You will not see another living bed bug or feel another bite after having a heat treatment
Entire structure and rooms are heated to 150 degrees. No bed bug or egg can withstand this heat and is instantly killed
Up to a 1 Year Warranty – we guarantee this treatment for up to a year. If you see any living bed bugs during your warranty period, we will retreat at no cost
Bed Bug Pesticide / Chemical Spray
Less expensive option, a licensed bed bug technician will thoroughly spray infested areas and bed bug hiding spots with our professional-grade pesticide
This treatment can take up to 30 days to fully eradicate a bed bug infestation. This is because every bed bug and egg must hatch and come in contact with our pesticide
Up to a 6 Month Warranty – this treatment is also guaranteed for up to six months. You can always give us a call to schedule service within your warranty
To request an estimate or bed bug inspection, give us a call at 623-202-7924.
Cost of Scottsdale Bed Bug Treatment/Extermination?
The price of a bed bug treatment is going to depend on which treatment option you go with, along with other factors like the square footage of your home, the severity of your infestation, and how much furniture you have.
As mentioned above, your two options are either a bed bug heat treatment or a pesticide/chemical treatment. A heat treatment is going to be the more costly treatment, but it will provide you with instant, same-day results by killing all bed bugs and eggs. A pesticide/chemical treatment is going to be the cheapest option, but all bed bugs most come in contact with our chemical to die.
You can always call us and we will provide an estimated cost for both treatments.
With a pesticide/chemical treatment, your results will not happen in just one day as it would with a heat treatment. Bed bugs will need to crawl out from their hiding areas to come in contact with our pesticide. Existing bed bug eggs will need to hatch and also come in contact with our pesticide. This entire bed bug life cycle can take up to 30 days.
Is a Bed Bug Heat Treatment or Chemical Treatment Better?
A bed bug heat treatment is going to the best type of treatment because it will eliminate the entire bed bug infestation (including eggs) in less than 8 hours. For extra protection, we also include a pesticide/chemical spray after heating the entire structure, just in case bed bugs were to be reintroduced after our heat treatment.
A chemical/pesticide treatment will also work, but most people do not want to wait 30 days for all the bed bugs to come in contact with our pesticide. The cost and pricing between the two treatments can be very different, but this is because a bed bug heat treatment requires much more time and specialized equipment.
Scottsdale Bed Bug Furniture Removal & Mattress Disposal
Looking for a company to dispose of furniture containing bed bug spotting/feces? We can provide furniture removal and mattress disposal for all bed bug infested items. Learn more about our furniture removal and mattress disposal service…
Top Questions About Our Bed Bug Treatments
Having bed bugs can be a disturbing experience but with Phoenix Bed Bug Expert, you will feel you are not alone as we help you rid yourself of your bed bug crisis. Here are some of the top questions that we receive from people who have just discovered they have a bed bug infestation:
Q: Is the pesticide/chemical option harmful to my family and pets?
Both of our treatments are not harmful to your family and/or pets. Every bed bug technician is a licensed applicator with the Arizona Office of Pest Management and uses products according to the labeled instructions.
To keep your family and pets safe, make sure you are only hiring licensed companies!
Q: How long does each treatment take? Do we need to be out of the house?
A bed bug heat treatment can take anywhere from 6 to 8 hours. After we heat the entire structure, we also apply a chemical/pesticide treatment to help with the possibility of reintroducing bed bugs. You must remain out of the house the entire time during our treatment.
If we are just going to be applying a chemical/pesticide treatment, this treatment type can take 1 to 2 hours. Everyone must stay out of the house for 6 hours after the spray is done to allow time for the chemical to dry.
Q: Are there any guarantees that your treatments will work?
Yes – with both the heat and chemical treatments, we offer bed bug warranties/guarantees. A heat treatment will come with a one year warranty, and a pesticide/chemical treatment can come with up to a 6-month warranty.
Q: Is there any risk to my belongings or furniture being damaged?
There is no risk to any of your belongings or furniture if you follow all the steps listed in our preparation checklist. We will be more than happy to walk you through the entire preparation checklist and you can always call with any questions you may have.
Q: What can I do now to start getting my home ready for treatment?
First, you should call us to schedule a bed bug inspection. This will allow us to determine the severity of your infestation, square footage of your home, and amount of furniture. After an inspection, we will be able to suggest the best treatment for your specific infestation.
Regardless of which treatment you'd like to go with, here are a few of the major items found on our preparation checklist:
Remove bed linens and wash/dry on high heat
Remove clothes from dresser drawers and wash/dry on high heat. Do not put the clothes back because we will be treating the dresser drawers
Put away all food, drinks, and kitchenware
Put away all pet bowls and toys
Clear floors including under beds and closet floors
Download Our FREE
Bed Bug Consumer Guide
If you have a bed bug infestation, download our free 23-page Bed Bug Consumer Guide where we cover the most common misconceptions, as well as how to exterminate and prevent bed bugs from spreading. Click the link below for instant access:

[ninja-popup ID=1440]Click Here to Download Now[/ninja-popup]