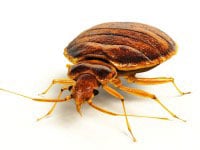 Using heat to exterminate bed bugs is what we do best. These recently developed heat treatments are the most effective method of ensuring that all bed bugs and their eggs are quickly and efficiently eradicated without having to use any dangerous chemicals.
Using our powerful heating equipment, we can exterminate every bed bug and egg on your premises. After carefully removing any heat sensitive items from the rooms to be treated, we heat the infested area(s) to a temperature of 150 degrees Fahrenheit. At this temperature, all bed bugs will be completely eradicated.
Depending on the extent of the bed bug infestation, we can treat anything from a single room to the entire premises.
This heat process is guaranteed to kill all bed bugs and sterilize all eggs, eliminating the infestation permanently and instantly. The heat treatment reaches all those areas where bed bugs like to hide, including into mattresses, hollow furniture, soft furnishings, carpets and cracks, and outlets in walls and floors.
We are so convinced of the efficiency of our heat treatment system that we offer a 1-year warranty with our services. Call now for a free in-home inspection: (480) 351-0375
Our Priority Is To Keep You Bed Bug Free!
Benefits & Advantages to Bed Bug Heat Treatments
Using our experience, we can tailor our heat treatments to give you the best possible result while working around your schedule. Unlike chemical treatments, there is no 30-day waiting period for the bed bugs to be gone.
Once the heat treatment is complete, you are bed bug free. No chemicals have to used, and you and your family can have complete peace of mind after the heat treatment.
We have such confidence in our heat treatment process and services, which is why we offer a one-year warranty.

Why Should You Choose Phoenix Bed Bug Expert?
Safely eliminate all bed bugs and eggs with a single, same-day treatment
Discrete – Our vehicles do not say "bed bugs" so your neighbors will not know
Our heaters permeates and kills bed bugs in areas that chemical or other treatments cannot reach
We don't use harmful chemicals, No dangerous fumes or residues that you'll find in DIY products
Our treatment kills ALL bed bugs and most other household pests (including eggs)
Only ONE treatment is needed
ONE YEAR GUARANTEE if we treat entire structure
WARNING: PLEASE DO NOT ATTEMPT TO TRY THIS YOURSELF. IMPROPER USE OF EQUIPMENT CAN HAVE SERIOUS CONSEQUENCES INCLUDING FIRE AND DEATH.
Download Our FREE
Bed Bug Consumer Guide
If you have a bed bug infestation, download our free 23-page Bed Bug Consumer Guide where we cover the most common misconceptions, as well as how to exterminate and prevent bed bugs from spreading. Click the link below for instant access:

Click Here to Download Now
"When we learned that a house guest had brought bed bugs into our home over the holidays, we were pretty freaked about the situation. Anthony was wonderful, very patient with us. He is very thorough in his work. He gets my highest recommendation."

Rating:5 of 5
Sincerely, Xander M.