Property Managers – We Offer Guaranteed Bed Bug Treatment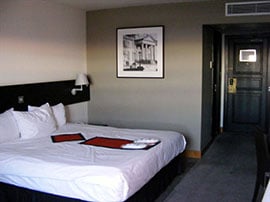 Bed bugs are a modern problem and not a historical footnote. They are actually on the rise and Phoenix is ranked #7 on a top 10 list of "most infested bed bug cities".
They are commonplace in hotels. apartments, and other commercial properties across the country, but especially Phoenix and Scottsdale.
One bed bug can rapidly infest the entire premises – but whatever the size of your bed bug problem, we can solve it – quickly, efficiently and discretely.
Our years of experience and specialty in exterminating bed bugs have made us the go-to company for property managers. Clients include apartment buildings, office buildings, hotels, doctor offices, restaurants, and other commercial and public properties.
If you suspect or know that you have bed bugs, give Phoenix Bed Bug Expert a call at 623-202-7924 for immediate service.
Signs of a Commercial Bed Bug Infestation
It's not always apparent that you have a bed bug problem. But if you are suffering from bites or an itchy rash, or you spot brown spots on mattresses, couches, chairs, etc there may be bed bugs on the premises. Unfortunately, a bed bug problem is not going to go away on its own.
A healthy female bed bug that gets a full blood meal every night will lay between two and five eggs every day. These bed bug eggs laid will hatch in six to ten days and soon they are producing more baby bed bugs. Bed bug infestations increase in severity the longer you leave them untreated.
We can provide a bed bug inspection for your commercial property. Call us at 623-202-7924 to schedule an inspection.
Commercial Bed Bug Treatment Options
There are two ways to eliminate a commercial bed bug infestation:
A bed bug heat treatment, followed by chemical/pesticide spray.
Bed bug chemical/pesticide spray.
Below is more information about each specific bed bug treatment option.
Commercial Bed Bug Heat Treatment
A bed bug heat treatment is the best way to kill bed bugs and eggs. Within eight hours, all the bed bugs and eggs have been killed – no more bites. As a backup precaution, we also spray a safe chemical/pesticide to act as an extra layer of protection. This chemical barrier kills any new bed bugs coming into the area, including ones that may be reintroduced.
We use specialized heating equipment to safely heat the whole structure to 150 degrees. This temperature kills all the bed bugs, including eggs, wherever they are hiding in your premises. Heat permeates through all cracks and crevices, they have nowhere to hide and no bed bug is able to escape their eventual fate with this guaranteed treatment.
Commercial Bed Bug Chemical/Pesticide Spray
Sometimes heat treatment is not an option for certain building types, or the cost may be out of your budget. When this is the case, a bed bug chemical/pesticide spray is the second-best option.
Eradicating bed bugs with the pesticide spray is not as effective as the heat treatment because the bed bug must come into contact with the sprayed areas. The eggs are unaffected by the chemical/pesticide until they hatch and crawl across the sprayed areas.
The whole process of eradication with a chemical/pesticide spray can take up to thirty days. During this time, you may still experience bites from bed bugs. One treatment is enough to kill all the bed bugs and we will only respray if a bed bug appears after the thirty days. We use the Environment Protection Agency (EPA) approved quality chemical pesticides that are safe for your family and your pets.
Contact Us for a Bed Bug Treatment Estimate
Don't be embarrassed by any type of bed bug problem, we can help. We eliminate all your bed bugs and can help protect your commercial property from further re-infestation.
Our fully licensed and insured pest control company specializes in dealing with bed bugs and we have thousands of satisfied customers. You can rely on us and our guaranteed treatment options to get rid of your bed bugs discreetly and efficiently.
To request an estimate or schedule a bed bug inspection for your commercial property, call us at 623-202-7924
.