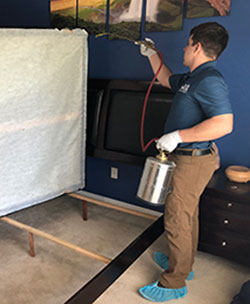 When it comes to getting rid of bed bugs, you have two options for treatment – a heat treatment or a pesticide/chemical spray.
The main difference between the two treatments is the cost and the amount of time needed before the bed bug infestation is gone.
While a heat treatment will kill all bed bugs on the same day of the treatment, a bed bug chemical spray can take up to 30 days to kill all bed bugs. This is because our pesticide cannot reach all of the areas that bed bugs hide. Once your home is sprayed, they will crawl out of their hiding places and come in contact with our pesticide.
It can also take up to 30 days to get rid of an entire infestation because any bed bug eggs that have already been laid before we treat will have to hatch. This can take 7 to 10 days for an egg to hatch, but as soon as that happens the baby bed bug (nymph) goes searching for a blood meal and will then come across our chemical and die.
About Our Chemical/Pesticide Treatments
Using the highest quality chemicals available for bed bugs, we eliminate all bed bugs within 30 days (in most cases)
This does not kill the bed bugs eggs and does not reach all bed hiding places within the walls, outlets, etc however it will kill all bed bugs when they hatch from their eggs and crawl out of their hiding places
Up to a 6 Month Warranty – A bed bug warranty protects you from having to pay for another treatment. If you see bed bugs during your warranty, call us and we will retreat at no cost
Cost of Bed Bug Pesticide/Chemical Treatments
For the cost of treatment, a bed bug pesticide/chemical spray is always going to be the cheaper option because it requires less time and equipment. A heat treatment requires 6 to 8 hours, specialized commercial heating equipment, and multiple bed bug technicians.
If you'd like to get an estimate for a bed bug chemical (or heat) treatment, you can call 623-202-7924. We can schedule a bed bug inspection where we thoroughly inspect every room for bed bugs, and if we find them, we will recommend the best route of treatment for your specific infestation.
Top Questions About Bed Bug Chemical Treatments
Q: Is the pesticide/chemical treatment safe for my family and pets?
A: Yes – when the products are used correctly and according to the labeled instructions, they pose no harm to your family or pets. It is very important you make sure you are hiring licensed applicators that know how to properly apply the treatment.
Q: How long does it take for a pesticide/chemical treatment to start working?
A: Because our pesticide/chemical treatment cannot reach all of the bed bug hiding places and will not kill bed bug eggs, it can take up to 30 days to fully get rid of your infestation. This is because all bed bugs and eggs must hatch and then come in contact with our pesticide.
If you are looking for a more instant treatment method that gets rid of all bed bugs and eggs within 8 hours, check out our bed bug heat treatment page.
Q: Will my furniture or belongings be damaged with a chemical treatment?
A: No – we are extremely careful with all of your furniture and belongings. In addition, we provide detailed preparation checklists so you know exactly how to prepare for either treatment.
Q: Is there any sort of guarantee that this bed bug treatment will work?
A: Yes – with our chemical/pesticide treatment we offer a 6-month warranty. For a bed bug heat treatment, it is a 12-month warranty. With both options, you are completely protected. If you see any bed bugs, just give us a call and we will retreat.
Request Free Estimate and Bed Bug Inspection
To request an estimate and/or a free bed bug inspection, contact us at 623-202-7924. If you have any other questions that we did not cover, please give us a call.
"After our inspection we went with a bed bug heat treatment. It was more expensive than a chemical treatment but it was well worth it. Anthony and Didi showed up on time and were done in about 6 hours. Since they treated we have not seen another bed bug"
Rating:5 of 5
Sincerely, Noah D.